confused-bliss.livejournal.com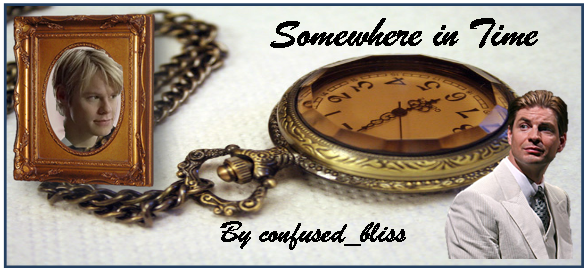 Title
: Somewhere in Time (Chapter 2)
Author
:

confused_bliss
Rating
: NC-17
Pairing
: Brian/Justin
Warnings
: OOC Brian!
Genre
: AU!
Beta
: None. All mistakes here are mine!
Banner
: Thank you to my dear friend, Kim -

predec2
for creating this amazing banner for me.
Disclaimer
: Sadly, I do not own any of these characters. I'd like to think I would have treated them much better. This is for entertainment purposes only. No infringement intended!
Feedback
: Yes, please. It is what motivates me to move forward!
Word Count
: 1900
Summary
: Brian Kinney is a playwright that has become accomplished in his chosen profession. When an elderly man places a stopwatch in his hand, along with an impassioned entreaty, Brian's life is forever altered. What begins as a curious look into the past, turns into an obsessive journey to connect his life to the man that quickly begins to capture his every thought. Can these two find each across the barriers of time?
A/N
: Again, I'd like to remind that I am altering the timeline for those who are familiar with the film. Being that the movie was made over 20 years ago, I need to change that part up in order to make the ages correct. I do hope you enjoy it. Comments are greatly appreciated! :)
Chapter 2