confused-bliss.livejournal.com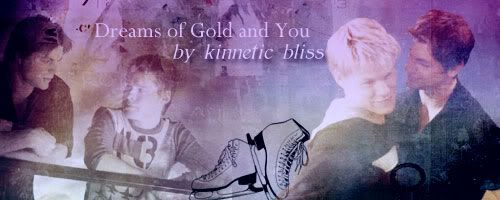 Title: Dreams of Gold and You (Chapter 16)
Author:

kinnetic_bliss
Genre: AU!
Pairing: Brian & Justin
Rating: R (overall)
Feedback: Yes, please... All comments are greatly appreciated!
Disclaimer: I own NOTHING. If I did the boys would be together forever - just borrowing them for awhile.
Banner and Layout done by the incredible:
foreverbm
Beta: Thank you to the awesome
britinmanor
Summary: Brian Kinney is a former Olympic figure skating champion. He now owns Babylon, his personal playground... and has abandoned all ties to his years of fame and glory. Justin Taylor is about to compete in the Nationals being held in their hometown of Pittsburgh. Doing well in this championship would give him recognition towards his desire as an Olympic hopeful. What will happen when the master meets the up and coming star?
A/N: At last, finally time for Babylon. I hope you will enjoy it. Please don't be too upset where we ended. The Babylon chapter will span at least two chapters. Thank you all that have been reading & commenting. I do appreciate it!! =)
kinnetic-bliss.livejournal.com/65863.html